Fire Protection
From the days of the bucket brigades of colonial America and the range, and forest and brush fires of the early west, fire protection has demanded one dominant element - cooperation. Unlike many other public services, political and jurisdictional boundaries are intentionally minimized through a complex system of agreements. Included is mutual aid and functional consolidation, to maximize efficiency and protect against the common public enemy - uncontrolled fires.
Early Days
CAL FIRE (formerly CDF) contractual relationship with Riverside County dates back to 1921. Those first contracts were only to augment the level of wildland fire protection provided by the State. CAL FIRE/Riverside County Fire Department, as we know it today, started in 1946 with the appointment of Truman Holland as County Fire Warden. Truman was part of the County Fire Department operations from 1946 until June 30, 1969. Sometime during that period (mid - 1960's), Fire Warden Holland became Chief Holland, who has been described as a very colorful man. It was his innovative ideas in the 1940's and 1950's that developed the basis for what the Riverside County Fire Department is today.
Riverside County Fire Department's first "engines" were surplus Army vehicles. The ten-wheelers stayed in the fleet until about 1970.
Riverside County Fire Chiefs - Past to Present:
​Truman Holland - 1946 to June 30, 1969

Elmer Chambers - July 1, 1969 to December 8, 1975
David L. Flake - December 8, 1975 to July 31, 1984
Raymond L. Hebrard - October 2, 1984 to October 30, 1988
Glen J. Newman - December 14, 1988 to February 28, 1992
J.M. Harris - March 1, 1992 to August 28, 1996
Jim Wright - 1996 to 1999
Larry Benson - 1999 to 2000
Tom Tisdale - 2000 to 2004
Craig E. Anthony - 2004 to 2006
Tom O'Keefe - 2006
John R. Hawkins - August 2006 to January 2018
​Daniel R. Talbot - January 2018 to July 2018

Shawn C. Newman - August 2018 to July 2020
Casey Hartman - July 2020
Bill Weiser - August 2020 to Present Day
Each of these County Fire Chiefs helped to increase fire protection requirements. Their efforts have added to the safety and protection of our firefighters through more modern and better equipment, and in turn have increased the protection level for Riverside County residents.
Firefighting Aircraft Memorial
Operating aircraft for fire suppression is a dangerous business, and Ryan Air Attack Base has not been immune to the tragic loss of life. Two air tankers stationed at Ryan Air Attack Base have been lost in the line of duty.
The first was Tanker 82, a Lockheed C-130 Hercules, which went down on August 13, 1994 while enroute to a fire in Kern County. Killed in the tragic accident was Pilot Bob Buc, Co-Pilot Joe Johnson, and Flight Engineer Shawn Zaremba. On June 17, 1995 an air tanker memorial was dedicated at Ryan Air Attack Base, in the public viewing area, to honor the loss of Tanker 82 and all tanker pilots lost in the line of duty. The poem on the granite memorial reads:
On any given day they take to the sky.
Their destiny in question, yet they never ask why.
As they race to the fire on strong metal wings.
This day in the air they are truly the kings.
So fly on gallent heroes, and give it your best.
Let it be known, you flew over the rest!
When your last flight finally comes to an end.
You soared with the eagles, you rode on the wind.
- P. Neal 1995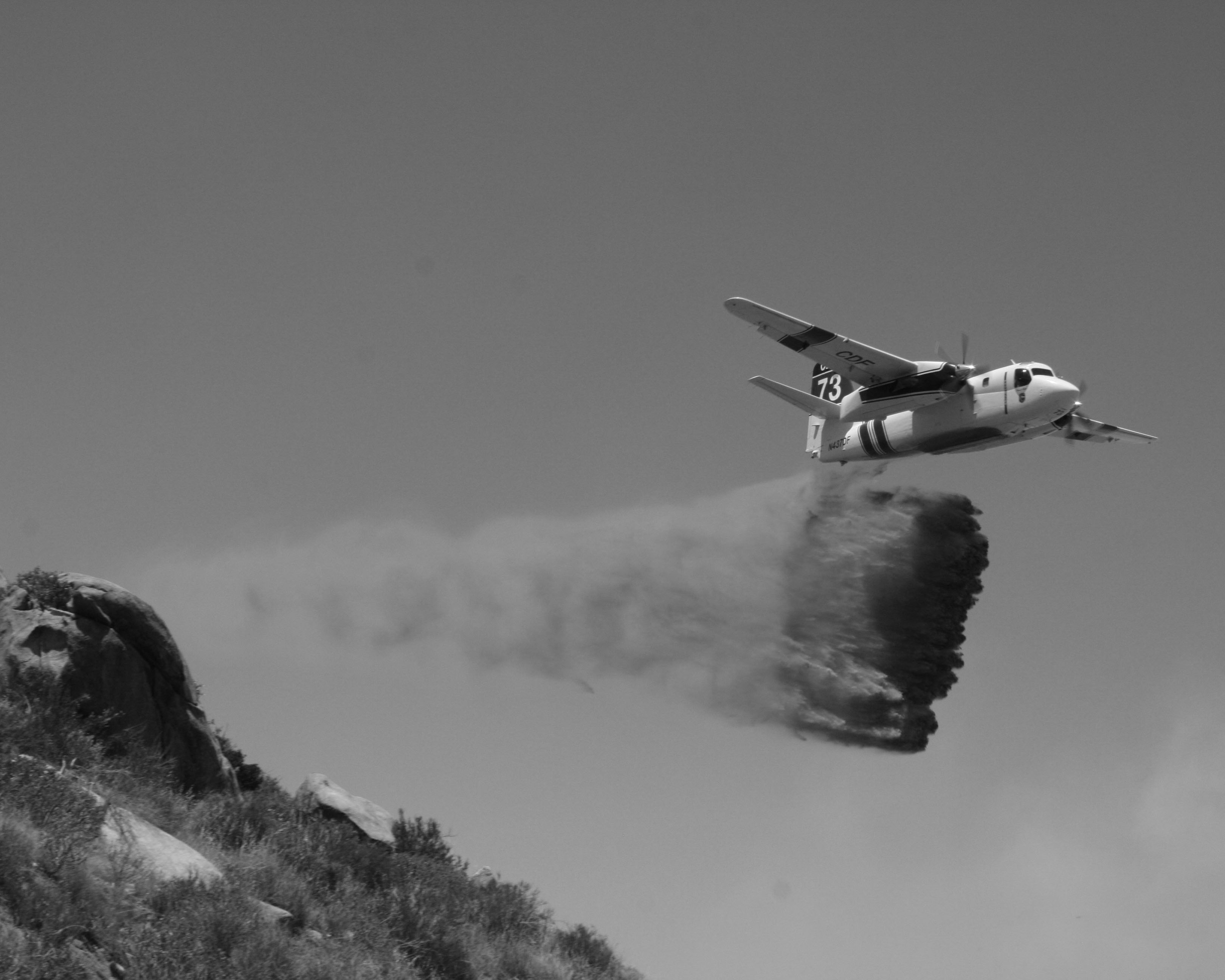 Four days later on June 21, 1995 Tanker 19, a Mc Donald Douglas DC-4 based out of Ryan Air Attack Base, collided with Lead 56, a Beechcraft Barron while on final approach to Ramona Air Tanker Base. Killed in the accident was Tanker 19 Pilot Gary Cockrell, Co-Pilot Lisa Netsch, and Lead 56 Pilot Mike Smith.
On October 5, 1998, Pilot Gary Nagel was dispatched from the Fresno Air Attack Base in CAL FIRE Tanker 96 to assist Firefighters in Riverside County. While fighting the Mount Edna Fire on the San Jacinto Mountains, Tanker 96 encountered turbulent air and impacted the terrain, killing Gary Nagel.